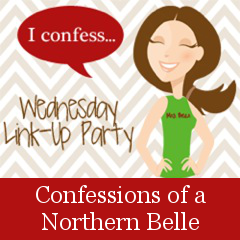 Linking up again for Confessions Wednesday with Catalyn (Mrs. Bear turned Northern Belle) from Confessions of a Northern Belle.  Here we go.
1.  I confess I am jealous that most people I know in Baltimore, Virginia and DC most likely have snow days the rest of the week due to the latest snow dumping that's currently taking place on the East coast.  Thus, I will be even more jealous tomorrow when I am walking through the rain and snow in NYC to get to work.  I just hope I don't slip and fall on my face.
2.  I confess I had a piece of cheese for breakfast today.  I also brought cheese and crackers for lunch and actually considered the thought of making a grilled cheese sandwich for dinner tonight.  That is probably not the best decision.
3.  I confess I smashed an ant with my finger the other night while I was sitting on my yoga mat.  I didn't want to interrupt my session by getting a paper towel so I did it with my finger instead.  Gross.
4.  I confess that I take Splenda packets from Au Bon Pain for the coffee I make in my apartment every morning instead of buying my own.  Sometimes I feel really bad about it.  Other times I justify it by telling myself it's sitting out to the public for a reason.
That's it for today.  And as always with the first Monday of every month I linked up with Medical Mondays again this week.  Stop by and visit to meet some new great friends…and reads